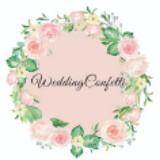 WeddingConfetti
@weddingconfetti
Singapore   ∙   Joined 7y 9m
Verified
Not Responsive
The Gown Specialists with a wide variety to match your style, size & budget. Visit us at Weddingconfetti.sg or email us at [email protected] for any queries!
Reviews
err26

.

review from buyer

3 years ago

Good Seller. Item received is on time and in good condition. Satisfied. Thank you😊

Great buyer, pleasant transaction, thank you for coming to my blk :)

Their wedding gowns are all very pretty. I had mine custom made and they have a dedicated seamstress to help with my measurements at only $5! Workmanship is also very good! Their customer service is also excellent! Seller is very responsive and provides me support/ advices within 3 working days for all my enquiries. I would highly recommend brides-to-be to choose Weddingconfetti to buy affordable and extremely pretty wedding gowns.

Great seller to deal with. Dress is very nice & fits nicely. Thanks for the great service. Highly recommended! 👍

The gown was very fitting and tailored exactly to the given measurements! It's very worth the money for a simple tailored gown. Seller is very friendly and efficient in responding and answering questions.

Seller is very friendly and accommodating. Guided me thru to make sure i take the correct measurements. Was very helpful even though my order was sort of rushed. The gown came on time and was beautifully made. Thanks so much again. Highly recommended.

meulah

.

review from buyer

4 years ago

Ordered 1nov and received on 12nov. I love the gown and it really looks the same in the picture. The workmanship details is good for the price I paid. The service is good and the seller is responsive with my queries. I mistakenly purchased wrong size but the seller allowed me to change the size. If I can remarry again, I will definitely purchase my gowns from them. Happy bride 2018

nibr__

.

review from buyer

4 years ago

prom was 10days away,i was worried & i wasn't confident on making the decision to make the transfer but i did it anyways.2 days before prom i didn't worried much,until the night before prom!i had sleepless night waiting for the dress to arrive & finding last min alternative.LUCKILY!i managed to get alternative 2hrs before i got the news my dress had arrived.i was so happy&dress was much better than the pics!would definitely order from WCSG when i have any event!would suggest u order more advance

seabreee

.

review from buyer

4 years ago

Lovely and friendly seller to deal with! Item was really lovely and just as described, will hope to deal with soon:)) Many thanks!!

kaiozint

.

review from buyer

4 years ago

Very responsive, helped me in deciding on sizes for my custom order dress. Dress came exactly in a month and fit perfectly. Great seller!

Great seller to deal with! Item delivered as described Pleasant transaction! Thank you!

It was my second time ordering from this shop. Again, they didn't disappoint me. 😊 Dress was made perfectly. No wonder if i keep on ordering from them. Thanks again for helping me! 😊

Fuss free! Seller was very patient. Sorry for the delayed responses due to work but thank you for the amazing dress & prompt replies 😭👏🏼😩💕

The flower baskets are pretty and good quality, seller is extremely friendly and it was delivered before the expected day. Will purchase other products in the future 😁

Seller was very patient with me asking so many questions. Such a sweet person! A bit of late replies cos I know she will be busy attending to other customers but that shouldn't be an issue. My wedding dress is soooo perfect from the material, to the design, and to the fitting (customized) It fits me nicely and it looks exactly like the picture shown. My mom can't even believe when I told her the price of the dress! So much love for Wedding Confetti!! ❤️❤️❤️

Pleasant transaction. Delivery is early than expected. My friend is very happy and satisfied because the gown is exactly as the picture. Thank you very much seller. I will recommend this seller! Good service and very friendly. Keep it up!

Really a great seller to deal with! She is prompt in response, and patient in helping with my enquiries. I love the dress and shawl that I got from WeddingConfetti, the materials are of good quality and they look similar as per the photos! Thank u once again!

leamour

.

review from buyer

5 years ago

Ordered a bridesmaid dress for my friend and the dress came earlier than expected, quality is good and she's able to customize according to the design I wanted. Highly recommended to all buyers looking for gowns or dresses, thank you!

Seller was super nice and knowledgeable. Also, Wedding Confetti had a great selection of dress with all sorts of price range. Seller tailored my dress according to my measurements, and it turns out ABSOLUTELY Stunning 😍 Oh, she even delivered my dress promptly! I would Highly recommend to all ladies out there who wants to get a great dress for a great value and top notch service!