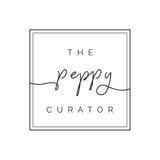 @thepeppycurator
Singapore   ∙   Joined 7y 10m
Verified
Reviews
panufa

review from buyer

∙

1 year ago

Amazing robes, fast delivery and good quality🤩 Thank you so much

[READY STOCK] PERSONALISED BRIDAL SATIN ROBE / BRIDESMAID ROBE / WEDDING ROBE / BRIDE ROBE

S$23

All good. Pleasant transaction. Will definitely come back for more!

[FATHER'S DAY SPECIAL] On the Go Box

S$36

Pleasant buyer! Genuine and fast transaction. Highly recommend! Thank you ◡̈

yotzke

review from buyer

∙

3 years ago

Very good seller! Item wrapped in a very personal and special way.

Seller was Super prompt in responding and really helpful and friendly too. Product was absolutely pretty! Would definitely recommend to everyone!

I love love love buying from this seller. The quality of products are always awesome and most important the service and friendliness, is beyond expectation.

Thepeppycurator was very friendly and responsive making the inquiry session very smooth. Items received. Packed very neatly and fashionably. Thanks for the robes! 👍🏻👍🏻👍🏻

nxrahnm

review from buyer

∙

3 years ago

seller was very accommodating & friendly! bought a gift fr my fiancé and transaction is smooth! will support ü again 👍🏻

It was a very fast, easy and pleasant transaction. Seller was very careful and helpful for my request. Recommended 👍🏼

Fuss-free and quick transaction! Didn't expect it to arrive very quickly! Will definitely purchase again!

Excellent seller - very responsive, friendly and efficient! I got the item so much faster than any other sellers who sell the similar items, but professionally wrapped. I will definitely purchase more from this seller.

It was fast, and told me every detail i need to know, thank you!

Transaction went smoothly, seller replied to all my queries promptly. There are other sellers selling similar item but I'm glad I chose The Peppy Curator, they delivered their promise timely and in good quality. HIGHLY RECOMMENDED 👍 thank you again Peppy Curator 😊

Polite and responsive seller. Product arrived better than expected!:)

rads1342

review from seller

∙

4 years ago

Great buyer... no issues at all. Decisive and clear 👍🏼👍🏼👍🏼😊

item: customized veil for bridal shower Item is perfect! Clean print out too! I told them they can make a replica of angelina jolie's wedding veil and sell it. totally worth the money. i am so glad i found them here in carousell!