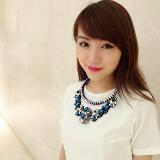 Say NO To Plain Janes!
@sovelle.com
No ratings yet
Singapore   ∙   Joined 10y 1m
www.sovelle.com SHOP NOW!!! :) Style yourself up with fashion statement jewelleries to stand out from the crowd. Plain jane, no more! 《For availability and to view more items, please go to www.sovelle.com》 ■ NO meetups, all prices are fixed.
Followers
Log in to see sovelle.com's followers